Ugly Sweater Bar Crawl is back again and we want the city of St. Petersburg to join in on the fun. Get that Goodwill sweater, find those tacky holiday pants, and get ready to jingle bell ROCK! Still looking for a funny and unique sweater? We got you covered! Please click the Ugly Sweater Link to save 15% off all of your Ugly Sweater purchases by November 24th.
Find those tacky holiday pants, grandpa's sweater, and let's get ready to jingle bell ROCK!
Ticket Includes:
•Signature Ugly Sweater themed Koozie and Sunglasses
•Registration party to kick off the crawl.
•Exclusive Drink and Food specials at participating bars.
•Ugly Sweater Bar Crawl Lanyard for bar and giveaway access.
•Holiday music rocking at each participating bar
•Hundreds of crawlers dressed in the ugliest holiday gear
•More giveaways to come!
We also have a VIP ticket that includes our Ugly Sweater Crawl T-Shirt shown below.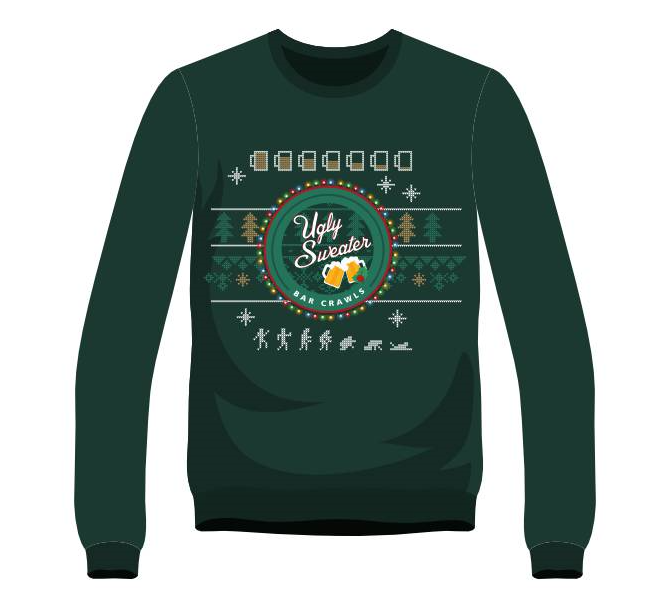 Join the best bar crawl in St. Pete. as we move in big groups bar to bar. New to town? Newly single? Want to meet new friends? But you still want to have an epic night to remember (or not to remember depending on how many spiked eggnog shots) we are the crawl. We keep people together from one big registration party to ending in one big after party.
Saturday night events! St. Pete Downtown Bars! Nightlife in St. Pete! St. Pete Bar Crawl!
Bar Partners:
Thirsty First
The One Night Stand
Five Bucks Drinkery
MacDinton's St. Pete
Yard of Ale St. Pete
260 First
*more to come*