---
ABOUT THE CRAWL

About
Let's Get Ugly! Join thousands of crawlers across the nation in celebrating the holidays with an epic Ugly Sweater Bar Crawl. Get out your grandma's sweater, find those tacky holiday pants, and get ready to jingle bell ROCK!
Mission Statement:
We are assembling the largest and ugliest sweater bar crawl the nation has ever seen. In cities across the country, we will be hosting Ugly Sweater Bar Crawls and spreading the holiday cheer! Each crawl will have amazing drink specials at some of the city's best bars. We've also partnered with Toys for Tots to not only create a memorable time for you, but to spread Ho Ho Hope to kids around the world.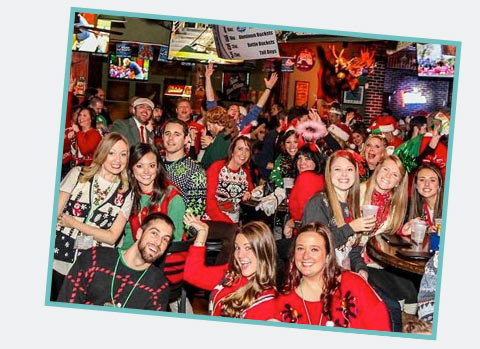 The Ugly Sweater Bar Crawl partnered with Bar Crawl USA and we want you to join in on the fun. Get that Goodwill sweater, find those tacky holiday pants, and get ready to jingle bell ROCK!
𝗪𝗵𝗮𝘁 𝗶𝘀 𝗼𝘂𝗿 𝗨𝗴𝗹𝘆 𝗦𝘄𝗲𝗮𝘁𝗲𝗿 𝗕𝗮𝗿 𝗖𝗿𝗮𝘄𝗹? First, you get a ticket. You wear an ugly sweater. Upon arriving at our registration party, you'll get awesome crawl swag (see below). You'll be given an official lanyard to guide you & hundreds of new friends bar to bar (5+ bars) with amazing drink deals along the way. We'll have a photographer there capturing all the fun with DJ entertainment to dance off all those drinks. Make it to our official after-party and receive our holiday-themed giveaway. Will you make it to the after-party?
*see all that is included & participating bars below*
𝗨𝗴𝗹𝘆 𝗦𝘄𝗲𝗮𝘁𝗲𝗿 𝗕𝗮𝗿 𝗖𝗿𝗮𝘄𝗹 𝗧𝗶𝗰𝗸𝗲𝘁:
 Ugly Sweater Bar Crawl Koozie
 Holiday Lanyard with map
 5+ participating bars
 Discounted drinks at each bar w/ lanyard
 Registration & official after party
 DJ Entertainment at multiple bars
 Photographer to capture the fun
 Holiday Live Stream Trivia with Prizes
 $100 Cash Prize for 1 Lucky Crawler
 Complete the crawl and receive a giveaway at the after party. Will you crawl to them all?
𝗩𝗜𝗣 𝗧𝗶𝗰𝗸𝗲𝘁:
 Ugly Sweater Drawstring Bag at registration
 Welcome Shot at registration
 Everything included with Regular Ticket
Over 75 bars partnered in over 15 cities!